Vilithya
Faction:
Alliance
Ability

Level 1: None

Level 2: None

Level 3: Attacker: Stop Opponent Bonus

Bonus

Level 1: +1 Power

Level 2: +1 Power

Level 3: +2 Power

Rarity:
Uncommon
Released:
August. 30, 2013
Artist:
LaimhaD.C.
Stars:
3
Stats Level 1:
5/1
Stats Level 2:
6/2
Stats Level 3:
7/3
Background
Edit
The Emerald Romance - Extract
"...the young knight entered the water, holding in his arms the lifeless body of his loved one. He laid her in this cold shroud, begging the Unicorn to bring her back to life. The knight cried and as his tears fell on the beautiful young lady's face they were transformed into sparkling jewels. The young beauty opened her eyes, smiled at him and went to join the Unicorn in the depths. From this day on, she watches over her loved-one from beyond the waters, queen of the nymphs with emerald eyes..."
None at the moment.
Advantages and Disadvantages of the card
Edit
Advantages:
Disadvantages:
Card Artwork
Edit
LV 1.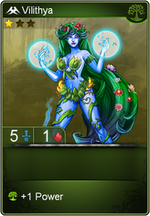 LV 2.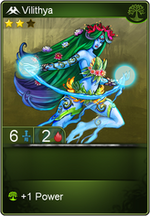 LV 3.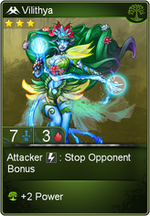 Full Artwork
Edit
LV 1.
LV 2.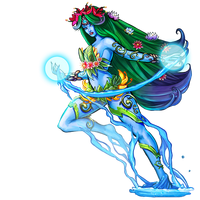 LV 3.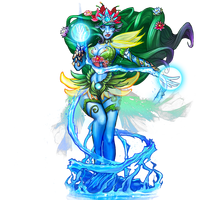 Useful links
Edit
Ad blocker interference detected!
Wikia is a free-to-use site that makes money from advertising. We have a modified experience for viewers using ad blockers

Wikia is not accessible if you've made further modifications. Remove the custom ad blocker rule(s) and the page will load as expected.