Tisha
Faction:
Spectre
Expansion:
Darkness
Ability

Level 3: -1 Opp. Power, Min. 5

Level 4: -1 Opp. Power, Min. 5

Level 5: -2 Opp. Power, Min. 5

Bonus

Level 3: Defeat -2 Lifer per Turn, Min. 12(Poison)

Level 4: Defeat -2 Lifer per Turn, Min. 11(Poison)

Level 5: Defeat -2 Lifer per Turn, Min. 9(Poison)

Rarity:
Epic
Released:
May, 10, 2013
Artist:
LaimhaD.C.
Stars:
5
Stats Level 3:
5/5
Stats Level 4:
6/5
Stats Level 5:
7/6
Background
Edit
Monologue of a demented Sylth
"... why did I let it come to me? Perhaps the memory of my sweet Ligéa still weighed heavy. She left an emptiness in me that this creature filled. She looks at me with… their faces, my lovers, reunited. They are there. They stare at me and condemn me. My soul runs through my fingers like life-giving water. She's so beautiful. I am going to dissolve in her sweet essence. Why fight it? Forget and slide… always deeper still into the abyss…"
None at the moment.
Advantages and Disadvantages of the card
Edit
Advantages:
Disadvantages:
Card Artwork
Edit
LV 3.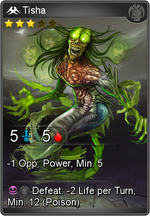 LV 4.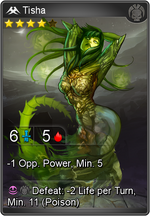 LV 5.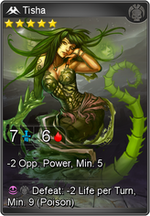 Full Artwork
Edit
LV 3.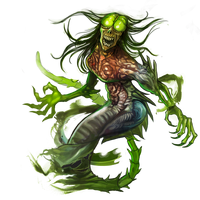 LV 4.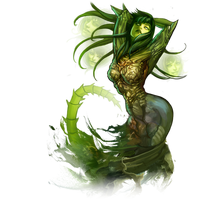 LV 5.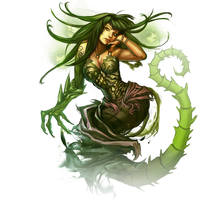 Useful links
Edit
Ad blocker interference detected!
Wikia is a free-to-use site that makes money from advertising. We have a modified experience for viewers using ad blockers

Wikia is not accessible if you've made further modifications. Remove the custom ad blocker rule(s) and the page will load as expected.