Thurayah
Faction:
Shadow
Expansion:
Warlords
Ability

Level 3: Victory: -1 Life per Turn, Min. 4 (Poison)

Level 4: Victory: -1 Life per Turn, Min. 1 (Poison)

Level 5: Victory: -1 Life per Turn, Min. 0 (Poison)

Bonus

Level 3: Confidence: Copy Opp, Bonus

Level 4: Copy Opp. Bonus

Level 5: Copy Opp. Bonus

Rarity:
Epic
Released:
November 21, 2012
Artist:
SDecaux
Stars:
5
Stats Level 3:
7/4
Stats Level 4:
7/4
Stats Level 5:
8/4
Background
Edit
Islandis Encyclopediae (anonymous)
"…the Concords sealed with the demons gain great powers using accursed dolls, but condemn the signatory to the Stain of one of their hands. In rare cases, the Concordants gain the partial gift of premonition. Only certain potions whose secrets reside in the dreams of the cloud-men of the Steel Mountains, are thought capable of undoing what was sealed and of extracting the truth from the untrue in the predictions of these criminal visionaries, who are happy to profiteer from their powers."
None at the moment.
Advantages and Disadvantages
Edit
Advantages:
Disadvantages:
Card Artwork
Edit
LV 3.
LV 4.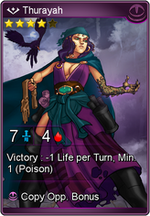 LV 5.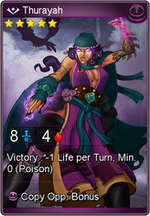 Full Artwork
Edit
LV 3.
LV 4.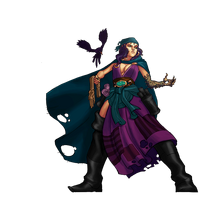 LV 5.
Useful links
Edit
Ad blocker interference detected!
Wikia is a free-to-use site that makes money from advertising. We have a modified experience for viewers using ad blockers

Wikia is not accessible if you've made further modifications. Remove the custom ad blocker rule(s) and the page will load as expected.