Thara Cavalletto 
Faction:
Shadow
Expansion: 
Darkness
Ability

Level 3: None

Level 4: None

Level 5: Revenge: -12 Opponent Attack, Min. 5

Bonus

Level 3: Victory: -1 Mana per Turn, Min. 7 (Burn)

Level 4: Victory: -1 Mana per Turn, Min. 4 (Burn)

Level 5: Victory: -1 Mana per Turn, Min. 1 (Burn)

Rarity:
Rare
Released:
April 12, 2013
Artist:
Vanoxymore
Stars:
5
Stats Level 3:
5/5
Stats Level 4:
5/6
Stats Level 5:
6/7 (Gains Ability)
Background
Edit
Journal of Theon, Shamarande male sex-object
"Thara is not a women, she's a phantom. She rarely visits me and although our embraces are impassioned, she says very little. What I know of her, I glean from her nightmares. Thara is a murderer, she makes no secret of that, and she crosses swords with dangerous people in pursuit of an age-old vengeance. When dawn breaks, I see her turn at the corner of the street, accompanied by a disturbing mechanical shadow and I know not if she will ever return to me."
None at the moment.
Advantages and Disadvantages
Edit
Advantages:
Disadvantages:
Card Artwork
Edit
LV 3.
LV 4.
LV 5.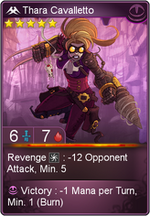 Full Artwork
Edit
LV 3.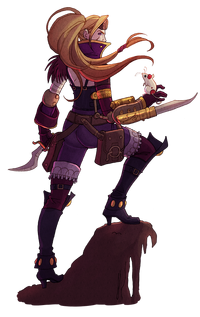 LV 4.
LV 5.
Useful links
Edit
Ad blocker interference detected!
Wikia is a free-to-use site that makes money from advertising. We have a modified experience for viewers using ad blockers

Wikia is not accessible if you've made further modifications. Remove the custom ad blocker rule(s) and the page will load as expected.