Background
Edit
Aak's mission report. Helmsman of Kraken. 5th wave Return to the bosom of her clan by the young human identified as Tena. Struck down by temporary blindness. Probable effect of the awakening of her "mystical eye" by our scholars. We are satisfied with her progress. The subject uses her ocean bow without difficulty. With each arrow fired, the echoes of the cord are effortlessly returned to our tuning forks. The precision of the information gathered in this manner could be improved upon, but the experiment remains a success: the immediate surroundings of the bow are now visible.
None at the moment.
Advantages and Disadvantages of the card
Edit
Advantages:
Disadvantages:
Card Artwork
Edit
LV 1.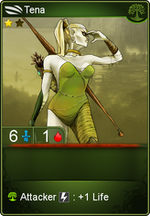 LV 2.
Full Artwork
Edit
LV 1.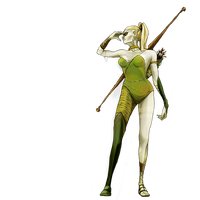 LV 2. 
Useful links
Edit
Ad blocker interference detected!
Wikia is a free-to-use site that makes money from advertising. We have a modified experience for viewers using ad blockers

Wikia is not accessible if you've made further modifications. Remove the custom ad blocker rule(s) and the page will load as expected.