T-x9 Sylvester
Faction:
Shadow
Ability

Level 3: Defender:Protection Power and Damage

Level 4: Defender:Protection Power and Damage

Level 5: Defender:Protection Power and Damage

Bonus

Level 3: Victory: +1 Mana

Level 4: Victory: +2 Mana

Level 5: Victory: +3 Mana

Rarity:
Epic
Released:
June, 7th, 2013
Artist:
John Sein
Stars:
5
Stats Level 3:
7/3
Stats Level 4:
7/4
Stats Level 5:
8/5
Background
Edit
Technical notes from Thara Cavaletto
"The strategy of the Trojan horse is only valid if you're in a position to get the horse through the enemy gates. T-9x is capable of this, but using force. With him, we'll bring the war into the very heart of enemy defenses. If only you could see him, Grandfather! I've done my best to improve your creation. He's like a giant from ancient times, a mountain in movement, nothing can stop him."
None at the moment.
Advantages and Disadvantages of the card
Edit
Advantages:
Disadvantages:
Card Artwork
Edit
LV 3.
LV 4.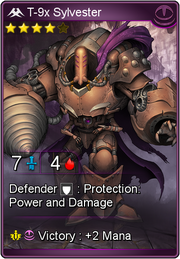 LV 5.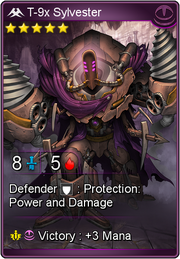 Full Artwork
Edit
LV 3.
LV 4.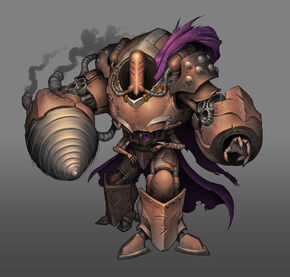 LV 5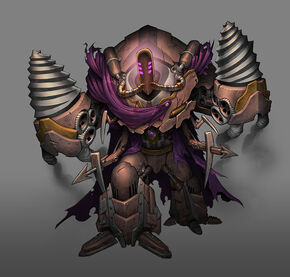 Ad blocker interference detected!
Wikia is a free-to-use site that makes money from advertising. We have a modified experience for viewers using ad blockers

Wikia is not accessible if you've made further modifications. Remove the custom ad blocker rule(s) and the page will load as expected.