Background
Edit
Extract of the Dorsal, living memory and photographic Slyth archive. - PRIMARY SYNAPTIC GROUNDSWELL -> Sheshko, back from the field, uses his contacts in high places to access the Dorsal. The Iridescent know he is trying to appropriate the ancient martial knowledge in order to enslave his people once he's returned home. This ambition means he is doomed. However, he pays little heed to this. Sheshko will serve the Iridescent until the day of his demise. And until then will remain a loyal and devoted servant.
None at the moment.
Advantages and Disadvantages of the card
Edit
Advantages:
Disadvantages:
Card Artwork
Edit
LV 3.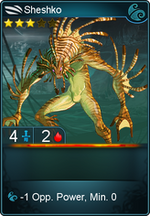 LV 4.
LV 5.
Full Artwork
Edit
LV 3.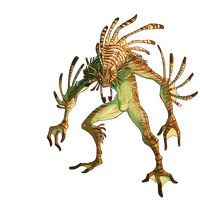 Useful links
Edit
Ad blocker interference detected!
Wikia is a free-to-use site that makes money from advertising. We have a modified experience for viewers using ad blockers

Wikia is not accessible if you've made further modifications. Remove the custom ad blocker rule(s) and the page will load as expected.