Sheleya
Faction:
Alliance
Expansion:
Darkness
Ability

Level 3: None

Level 4: None

Level 5: Attacker: Stop Opp, Ability

Bonus

Level 3: Victory: +1 Mana per Turn,   Max. 7 (Spirit)

Level 4: Victory: +1 Mana per Turn,   Max. 9 (Spirit)

Level 5: Victory: +1 Mana per Turn,   Max. 12 (Spirit)

Rarity:
Rare
Released:
April 12, 2013
Artist:
SDecaux
Stars:
5
Stats Level 3:
7/2
Stats Level 4:
7/3
Stats Level 5:
8/4
Background
Edit
Sylvatir to Sheleya, before battle
"…you must be as stealthy and as deadly as water. I know your heart bleeds to have to fight your brothers whose eyes are now empty, but if the nymphs chose to bestow these daggers upon you, it is because the trees and rivers have faith in you. Awaken your senses and close off your heart so that in the wake of the Aokee, the tornado of your blows may rain down on those who desecrate our land…"
None at the moment.
Advantages and Disadvantages of the card
Edit
Advantages:
Disadvantages:
Card Artwork
Edit
LV 3.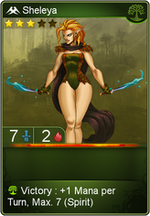 LV 4.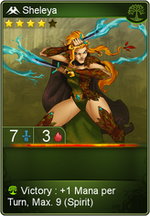 LV 5.
Full Artwork
Edit
LV 3.
LV 4.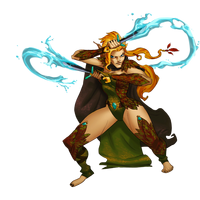 LV 5.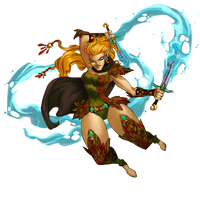 Useful links
Edit
Ad blocker interference detected!
Wikia is a free-to-use site that makes money from advertising. We have a modified experience for viewers using ad blockers

Wikia is not accessible if you've made further modifications. Remove the custom ad blocker rule(s) and the page will load as expected.