Sarnek
Faction:
Shadow
Ability

Level 3: None

Level 4: None

Level 5: Stop Opponent Bonus

Bonus

Level 3: Attacker: Victory: +1 Mana

Level 4: Attacker: Victory: +2 Mana

Level 5: Attacker: Victory: +3 Mana

Rarity:
Rare
Released:
April 13, 2012
Artist:
SDecaux
Stars:
5
Stats Level 3:
5/5
Stats Level 4:
6/5
Stats Level 5:
7/6 (Gains Ability)
Background
Edit
Tactical guide for refined gentlemen.
"One must also take into account the symbiosis that seems to unite the serpent-men with the reptiles, to the extent that they almost have a telepathic link with these creatures. We cannot keep count of the number of soldiers killed by these shrewd and wily serpents, who seem to be endowed with the gift of reason. And be sure not to overlook the poison-coated blades that these killers are all too quick to make use of."
None at the moment.
Advantages and Disadvantages
Edit
Advantages:
Disadvantages:
Card Artwork
Edit
LV 3.
LV 4.
LV 5.
Full Artwork
Edit
LV 3.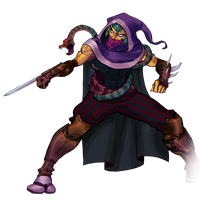 LV 4.
LV 5.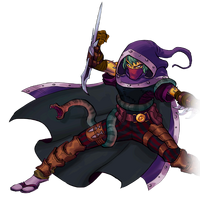 Ad blocker interference detected!
Wikia is a free-to-use site that makes money from advertising. We have a modified experience for viewers using ad blockers

Wikia is not accessible if you've made further modifications. Remove the custom ad blocker rule(s) and the page will load as expected.