INTRODUCTION
Edit
In Fantasy Rivals you build a team of Heroes that you then lead into battle to become the greatest warrior in the world of Rhynn! Build decks, go head-to-head in battle and evolve your Heroes after countless rounds with fierce opponents! A game consists of four rounds, during which your Heroes and those of your opponent go head-to-head in Duals, in which you each gamble on the strength of your Hero. A Hero who wins a Dual inflicts Damage on the Opponent's Life Points. To defeat your opponents, you must either reduce their Life Points to zero or finish the game with more Life Points than them.
GAME PROGRESS You begin the game with a randomly selected card from your Deck placed face upwards and two cards in your hand that are not visible to your opponent.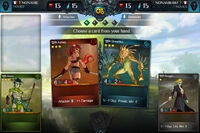 Will the alliance of nature vanquish the forces of darkness?
You must then choose one of these two cards to play. The Heroes in play will be the Heroes you can use in this round. Select a Hero to go head-to-head in a Dual with an opposing Hero and increase their attack by giving them Mana!
Power (1) * Mana (2) = Attack (3)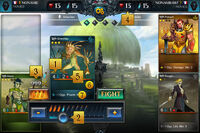 Sheshko is not very happy…
To defeat the opposing Hero and cause your Opponent to lose Life Points, your Hero must have the highest attack value at the end of the Dual.
If your Hero emerges victorious, they will cause your Opponent to lose Life Points (4) equivalent to their Damage value (5).
Heroes have Abilities and Bonuses that can help them win their Duals: Power, Attack and Poisoning Bonuses. Find them all in the game!
The end of a Dual marks the end of the round. A new round then begins. A new Hero will be added to your hand from your Deck and once again you must select a Hero to play in the game.
You win the game if your Opponent's Life Points are reduced to 0 or if you have more Life Points than them at the end of the game. Please remember that a game consists of four rounds!
Ad blocker interference detected!
Wikia is a free-to-use site that makes money from advertising. We have a modified experience for viewers using ad blockers

Wikia is not accessible if you've made further modifications. Remove the custom ad blocker rule(s) and the page will load as expected.