Background
Edit
Dubbing rite of the Coral Knights "…rise, Radoraan, Third Crown of the 8th Dynasty. In the long tradition of your forefathers, you are now the coral on which the waves are sharpened. By your sword and spirit, may you forge the fate of your descendants and guide our children towards the Land Beneath the Sky."
Find the donkey tail
Advantages and Disadvantages of the card
Edit
Advantages:
Cant get any uglier
Its sword can pick fruit at high branches
Can river dance
Disadvantages:
QUITE UGLY
Seems to ignore you most of the time
Never takes off its mask. Not even when it sneezes.....
Card Artwork
Edit
LV 3.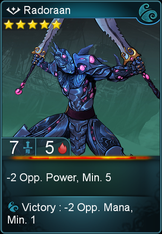 LV 5.
LV 4.
Full Artwork
Edit
LV 3.
Useful links
Edit
Ad blocker interference detected!
Wikia is a free-to-use site that makes money from advertising. We have a modified experience for viewers using ad blockers

Wikia is not accessible if you've made further modifications. Remove the custom ad blocker rule(s) and the page will load as expected.