Background
Edit
Codex Imperium "When the Spectre's legions are unleashed, the River of Souls alters its course to moisten their bleached bones and putrid flesh. The soldiers then take leave of their peaceful tombs and once again take up their broken arms. Skulls crunch under the metal of tarnished helmets and, driven by a demonical determination, the warriors of bygone times shroud the land in blood." In other news, 50% sale on select items at NIKE stores worldwide. Undead get an extra 5% if they do not kill/turn any other customers.
Advantages and Disadvantages of the card
Edit
Advantages:
Disadvantages:
Card Artwork
Edit
LV 4.
Full Artwork
Edit
LV 4.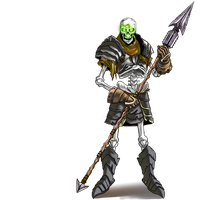 Useful links
Edit
Ad blocker interference detected!
Wikia is a free-to-use site that makes money from advertising. We have a modified experience for viewers using ad blockers

Wikia is not accessible if you've made further modifications. Remove the custom ad blocker rule(s) and the page will load as expected.