Background
Edit
Codex Inquisitorus The godless one has a tendency to wear an animal mask, usually a feline one. Thus haloed in impure magic, she slips among our men and sows the seeds of creeping death. May the Holy Flame guide us. Let us, through prayer and steel, inspire in this little savage the same terror that seems to overtake her when confronted with the legions of the Spectre.
None at the moment.
Advantages and Disadvantages of the card
Edit
Advantages:
Once you go black, you can go back. So enemies cannot retreat
Does not need camouflage at night
Abs!
Disadvantages:
Gets very frustrated when receiving orders that she considers "sassy"
Gets distracted by chocolate
Cannot do the tango
Card Artwork
Edit
LV 3.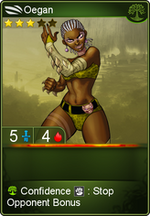 LV 4.
LV 5.
Full Artwork
Edit
LV 3.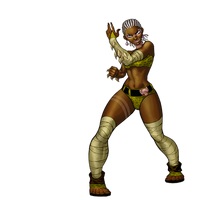 LV 4.
LV 5.
Useful links
Edit