Background
Edit
Imperial Bestiary "Towering within the Palace of Torments is the obsidian door. Its decorative casements illustrate the path of the tormented souls down the River of Souls. Hidden in the shadows not far from the door, Moloss lies in watch, a fleshless demon of legendary strength whose eyes glisten with evil.
Advantages and Disadvantages of the card
Edit
Advantages:
Disadvantages:
Card Artwork
Edit
LV 3.
Full Artwork
Edit
LV 3.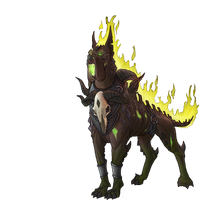 Useful links
Edit
Ad blocker interference detected!
Wikia is a free-to-use site that makes money from advertising. We have a modified experience for viewers using ad blockers

Wikia is not accessible if you've made further modifications. Remove the custom ad blocker rule(s) and the page will load as expected.