Background
Edit
Poem by Midir to nature "Nature, you who are so generous despite their neglect of you, you remain calm and joyous. I, Midir, am so fortunate. And I will never be able to thank you enough for all the good you do me."
None at the moment.
Advantages and Disadvantages of the card
Edit
Advantages:
Disadvantages:
Card Artwork
Edit
LV 1.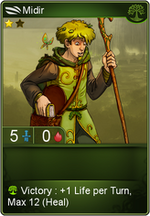 LV 2.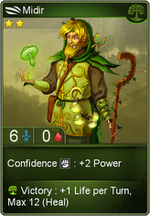 Full Artwork
Edit
LV 1.
LV 2.
Useful links
Edit
Ad blocker interference detected!
Wikia is a free-to-use site that makes money from advertising. We have a modified experience for viewers using ad blockers

Wikia is not accessible if you've made further modifications. Remove the custom ad blocker rule(s) and the page will load as expected.