Background
Edit
Irritating Eeok, under Loshen's feet.
"You dig, you dig, but just what do you think you're achieving by all that, eh, eh? Where does it lead to, Loshen? Have you struck it lucky; is that it, eh, eh? You've struck it lucky, haven't you, haven't you? Come on Loshen, tell me! You won't? Why won't you say anything, master tunneler, huh? And what's that egg you've got hidden in your knapsack, eh? Tell me! It looks kind of shiny, eh? You don't want the others to know, is that it? And what if I told them? You'd be annoyed, eh, wouldn't you? You're not saying anything, Loshen, why won't you say any…" Wham. "Oww…"
Advantages and Disadvantages of the card
Edit
Advantages:
Its Green so no one can see it hiding in the grass
He will reaaaaly dig you
No union membership
Disadvantages:
Has the bad habit of digging everywere.
Does not shower
High probability of collapsing tunnels due to over digging
Card Artwork
Edit
LV 1.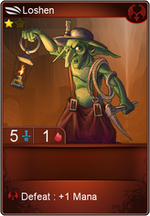 LV 2.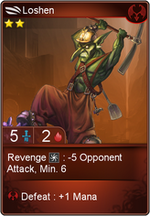 Full Artwork
Edit
LV 1.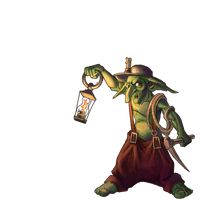 LV 2.
Useful links
Edit
Ad blocker interference detected!
Wikia is a free-to-use site that makes money from advertising. We have a modified experience for viewers using ad blockers

Wikia is not accessible if you've made further modifications. Remove the custom ad blocker rule(s) and the page will load as expected.