Kunh'Am
Faction:
Shadow
Ability

Level 3: None

Level 4: None

Level 5: Defender: +2 Power

Bonus

Level 3: Victory: -3 Opp. Mana, Min. 6

Level 4: Victory: -4 Opp. Mana, Min. 6

Level 5: Victory: -5 Opp. Mana, Min. 6

Rarity:
Rare
Released:
November, 21st, 2012
Artist:
SPirlot
Stars:
5
Stats Level 3:
5/5
Stats Level 4:
6/5
Stats Level 5:
7/6 (Gains Ability)
Background
Edit
Message carried by a talkative desert burrower.
"You feel too comfortable, Kunh'Am; spending so much time with city dwellers has made you civilized. Be sure not to blunt your dual blades on the soft skin of loose women. Snek is asking for your poison, my brother. The time has come for the darkness of the Shadow to rain down on the cities of Rhynn. And keep an eye on Arduino. If he realizes how his father died and his blood must run…then so be it.
None at the moment.
Advantages and Disadvantages
Edit
Advantages:
Disadvantages:
Card Artwork
Edit
LV 3.
LV 4.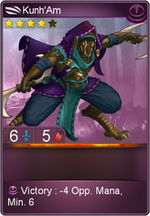 LV 5.
Full Artwork
Edit
LV 3.

LV 4.

LV 5.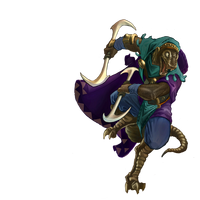 Ad blocker interference detected!
Wikia is a free-to-use site that makes money from advertising. We have a modified experience for viewers using ad blockers

Wikia is not accessible if you've made further modifications. Remove the custom ad blocker rule(s) and the page will load as expected.