Kjolt Artwork
Faction:
Draken
Extension:
Iceborne
Ability

Level 3: None

Level 4: None

Level 5: Defeat: -3opp. Life, Min.4

Bonus

Level 3: Final Strike:-1Mana per Turn, Min. 10 (Burn)

Level 4: Final Strike:-1Mana per Turn, Min. 8 (Burn)

Level 5: Final Strike:-1Mana per Turn, Min. 7 (Burn)

Rarity:
Rare
Released:
April 11, 2014
Artist:
VanOxymore
Stars:
5
Stats Level 3:
6/4
Stats Level 4:
6/5
Stats Level 5:
7/7
Background
Edit
Chapter X: The Wyvern of the Volcanoes

As I descended or perhaps more accurately fell from the raised postern, I was able to see the Drakull charging afresh on the main portcullis. Hidden beneath my chromatophore cloak, I picked myself up with difficulty and searched around for the quickest route out. But I was transfixed in horror when Kjolt, the alpha wyvern, swept past leaving in his wake an unbearable sulphurous odor. Then I saw him rise up, all set to spew out his fiery bile onto the very spot of the ramparts on which I stood!
My fate would have been sealed then and there if the creature had not been intercepted by the brave Alconost Gladia who, on that day, without meaning to, saved my life. I took advantage of this air-borne battle to escape into the snow and wintry weather…
None at the moment.
Advantages and Disadvantages of the card
Edit
Advantages:
Disadvantages:
Card Artwork
Edit
LV 3.
LV 4.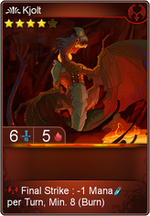 LV 5.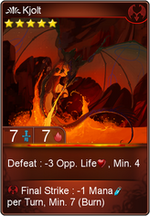 Full Artwork
Edit
LV 3.
LV 4.
LV 5.
Useful links
Edit
Ad blocker interference detected!
Wikia is a free-to-use site that makes money from advertising. We have a modified experience for viewers using ad blockers

Wikia is not accessible if you've made further modifications. Remove the custom ad blocker rule(s) and the page will load as expected.