Jeenea
Faction:
Shadow

Expansion:

Warlords
Ability

Level 1: None

Level 2: Attacker: +6 Attack

Bonus

Level 1: Victory: -1 Life per Turn, Min. 9 (Poison)

Level 2: Victory: -1 Life per Turn, Min. 6 (Poison)

Rarity:
Common
Released:
November, 21st, 2012
Artist:
SPirlot
Stars:
2
Stats Level 1:
5/1
Stats Level 2:
6/1 (Gains Ability)
Background
Edit
Rohliman, the peddler, to a colleague who's just getting started.
"If you want to survive for more than a week in the suburbs of Taenith, let Jeenea come and take her share of your wares. She'll then protect you from the snake-men. But don't be blinded by her southern girl golden-skinned looks. Her charm is just a ruse, a fatal trap in which many men have fallen and believe you me, I know what I'm talking about."
None at the moment.
Advantages and Disadvantages
Edit
Advantages:
Disadvantages:
Card Artwork
Edit
LV 1.
LV 2.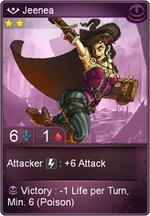 Full Artwork
Edit
LV 1.
LV 2.
Ad blocker interference detected!
Wikia is a free-to-use site that makes money from advertising. We have a modified experience for viewers using ad blockers

Wikia is not accessible if you've made further modifications. Remove the custom ad blocker rule(s) and the page will load as expected.