Background
Edit
The inn-keeper in the village of Ostriem to a passing mercenary: "…I'm not surprised you're the adventuring type! But I strongly advise you not to go out at night. There's a strange thing that comes here at nightfall: a winged abomination that carries off the sheep, not to mention the young women, who hang about in the streets for too long. An Inquisitor told us it was the messenger of a necromancer but for us simple people it is nothing more than Evil incarnate!"
Advantages and Disadvantages of the card
Edit
Advantages:
Disadvantages:
Card Artwork
Edit
LV 2.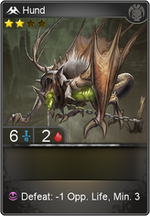 LV 3.
LV 4.
Full Artwork
Edit
LV 2.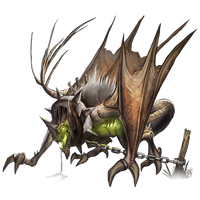 LV 3.
LV 4.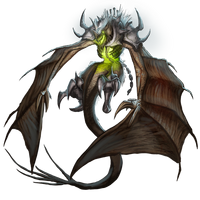 Useful links
Edit
Ad blocker interference detected!
Wikia is a free-to-use site that makes money from advertising. We have a modified experience for viewers using ad blockers

Wikia is not accessible if you've made further modifications. Remove the custom ad blocker rule(s) and the page will load as expected.