Background
Edit
Baldur Gerhold to his champion "Go my creature, harvest souls, spread fear, and gather in the sparks of life you rip from the mortal ones. And return to me bursting with a strength that would make the Duke himself tremble!"
2 hours later:
Baldur: "What is that?"
Gzad: "Your souls master"
Baldur: "You idiot! Those are SOLES!!!!"
Gzad: "....Yes master. Thats what you asked for."
Baldur: "I ASKED FOR SOULS! NOT SOLES!!!"
Gzad: "Maybe you need some rest master, you do not make any sense"
Advantages and Disadvantages of the card
Edit
Advantages:
Disadvantages:
Card Artwork
Edit
LV 4.
Full Artwork
Edit
LV 4.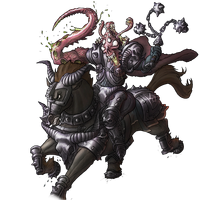 Useful links
Edit
Ad blocker interference detected!
Wikia is a free-to-use site that makes money from advertising. We have a modified experience for viewers using ad blockers

Wikia is not accessible if you've made further modifications. Remove the custom ad blocker rule(s) and the page will load as expected.