Background
Edit
Mognu, 8th hammer, testifying to the Grey Council of the Thousand Embers Sect. Grom is talented. His smithying is good. He is a young and promising craftsman. He has reached the level of second Veil and can now sieve magma with his bare hands. My fear, however, is that he will become intoxicated with power. I know from a reliable source that he plans to reforge Nurn's legendary axe, the T'ollin. Let us be cautious, brothers of the Thousand Embers, perhaps it would be advisable to extinguish the flames of this fiery blacksmith before he tries with this extraordinary weapon to force his way into our inner circle.
Advantages and Disadvantages of the card
Edit
Advantages:
Disadvantages:
Card Artwork
Edit
LV 1.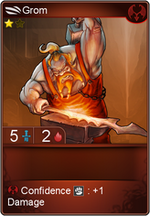 LV 2.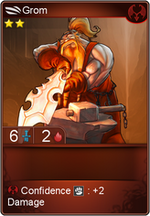 Full Artwork
Edit
LV 1.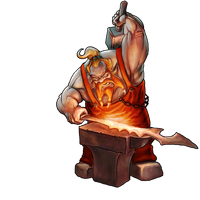 LV 2.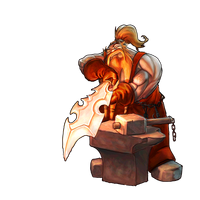 Useful links
Edit
Ad blocker interference detected!
Wikia is a free-to-use site that makes money from advertising. We have a modified experience for viewers using ad blockers

Wikia is not accessible if you've made further modifications. Remove the custom ad blocker rule(s) and the page will load as expected.