Gongho 
Faction:
Shadow
Expansion: 
Foundations
Ability

Level 2: None

Level 3: None

Level 4: Victory: +2 Mana

Bonus

Level 2: Defender: -8 Opp. Attack, Min. 4

Level 3: Defender: -10 Opp. Attack, Min. 4

Level 4: Defender: -12 Opp. Attack, Min. 4

Rarity:
Uncommon
Released:
April 12, 2013
Artist:
VPerezCorbella
Stars:
4
Stats Level 2:
3/6
Stats Level 3:
4/6
Stats Level 4:
5/6 (Gains Ability)
Background
Edit
Alred, manager of the Green Shoe Inn
"…and you won't forget to look after Gongho while I'm away, will you? Be sure to give him three chickens a day, a half-ogre needs his food. Jeenea the Shimmering One is very definite on this subject: if he isn't well fed, he gets cross... Oh and be sure he leaves his bludgeon behind the bar. I don't want him knocking down another wall if the imperial guards happen to be in the area. And if you see he's getting wound up, sing him the lullaby "A-fluttering". Now, if you heed my advice, then hopefully the inn will still be standing on my return..."
None at the moment.
Advantages and Disadvantages
Edit
Advantages:
Disadvantages:
Card Artwork
Edit
LV 2.
LV 3.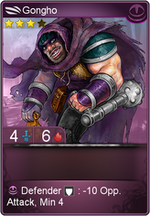 LV 4.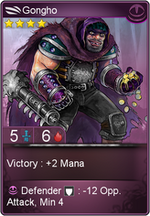 Full Artwork
Edit
LV 2.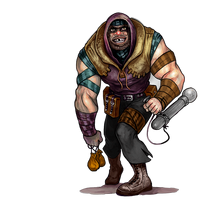 LV 3.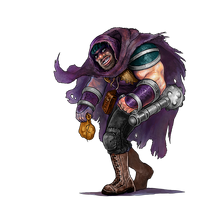 LV 4.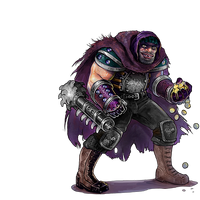 Useful links
Edit
Ad blocker interference detected!
Wikia is a free-to-use site that makes money from advertising. We have a modified experience for viewers using ad blockers

Wikia is not accessible if you've made further modifications. Remove the custom ad blocker rule(s) and the page will load as expected.