Background
Edit
Journal of Erwaan. "Blood streaming from the other officer cadets during the entrance test. The dungeon. The torture. Blood streaming from the torturers. Blood streaming from the knights of the Abyss ordered to pursue him. Gaano is not just a soldier, he is THE soldier. May he live long enough that we may make an admiral of him."
None at the moment.
Advantages and Disadvantages of the card
Edit
Advantages:
Wins every halloween costume contest
Likes to accesorise
Nice legs
Disadvantages:
His sword can poke an eye out
Excessive use of pink gems
The society for bird rights has filed a complain about his mask
Card Artwork
Edit
LV 1.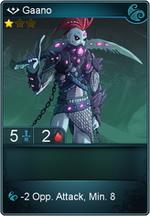 LV 2.
LV 3.
Full Artwork
Edit
LV 1.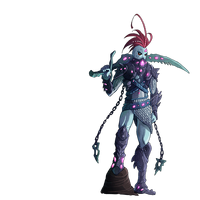 LV 2.
LV 3.
Useful links
Edit
Ad blocker interference detected!
Wikia is a free-to-use site that makes money from advertising. We have a modified experience for viewers using ad blockers

Wikia is not accessible if you've made further modifications. Remove the custom ad blocker rule(s) and the page will load as expected.