Feragar Artwork
Faction:
Alliance
Ability

Level 2: None

Level 3: None

Level 4: Defender: Victory: +1 Life per Turn, Max 17 (Heal)

Bonus

Level 2: Victory: +2 Life per Turn, Max 8 (Heal)

Level 3: Victory: +2 Life per Turn, Max 10 (Heal)

Level 4: Victory: +2 Life per Turn, Max 11 (Heal)

Rarity:
Rare
Released:
April 26, 2013
Artist:
JCPoupard
Stars:
4
Stats Level 2:
8/1
Stats Level 3:
9/1
Stats Level 4:
9/2
Background
Edit
A Bedtime Story
"...My wanderings brought me to the edge of a small river whose banks were fragrant. He was there, dancing rhythmically in the middle of the stream, his root-like feet sliding on the water's surface: it was the Great Spirit of the forest. In the fresh blue watercress, two soldiers were sleeping, architects without a doubt of their mutual demise. Through his dance, the Great Spirit washed away their blood and slipped the soldiers into the water. When the river swallowed them up, I could have sworn I saw them smile…"
None at the moment.
Advantages and Disadvantages of the card
Edit
Advantages:
Disadvantages:
Card Artwork
Edit
LV 2.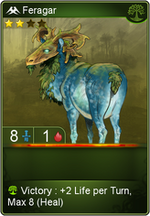 LV 3.
LV 4.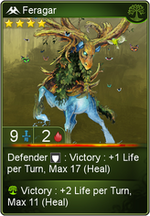 Full Artwork
Edit
LV 2.
LV 3.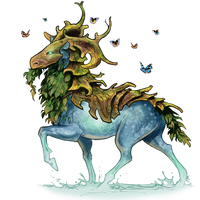 LV 4.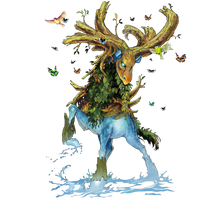 Useful links
Edit
Ad blocker interference detected!
Wikia is a free-to-use site that makes money from advertising. We have a modified experience for viewers using ad blockers

Wikia is not accessible if you've made further modifications. Remove the custom ad blocker rule(s) and the page will load as expected.