Background
Edit
Enevia with Arian, Elf prince of the 39 Steps. "Have you brought me what I asked for, oh handsome prince? Thank you. Oh what a beautiful liver! Your betrothed must be a great drinker, is she not? Do not fear, she will know nothing of our little alliance. This binge will wipe all trace of it from her memory and your own. From now on, you will be…or rather, we will be like strangers in the night, you and I."
Advantages and Disadvantages of the card
Edit
Advantages:
Disadvantages:
Card Artwork
Edit
LV 4.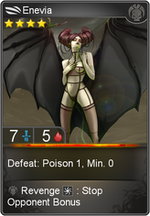 Full Artwork
Edit
LV 4.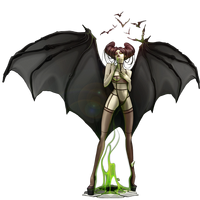 Useful links
Edit
Ad blocker interference detected!
Wikia is a free-to-use site that makes money from advertising. We have a modified experience for viewers using ad blockers

Wikia is not accessible if you've made further modifications. Remove the custom ad blocker rule(s) and the page will load as expected.