Delm Artwork
Faction:
Alliance
Ability

Level 2: None

Level 3: None

Level 4: Stop Opp. Ability

Bonus

Level 2: Victory: +1 Life

Level 3: Victory: +2 Life

Level 4: Victory: +3 Life

Rarity:
Rare
Released:
November, 21st, 2012
Artist:
RLeguay
Stars:
4
Stats Level 2:
6/1
Stats Level 3:
8/1
Stats Level 4:
9/1
Background
Edit
Extract from Delm's diary before his transformation into an Aokee ...tomorrow I will drink the sacred sap to become a creature of nature. I am eager to leave behind me the crimes and atrocities I have committed as a mercenary. From now on, I will devote my entire life to the Alliance and to life…
Get the leading role in Pinoccio
Advantages and Disadvantages of the card
Edit
Advantages:
When standing still, he can be used as an excellent garden statue
Always available if you need to knock on wood
If firewood ever runs low, he is more than eager to bring more. Or else....
Disadvantages:
Needs constant watering
Splinters EVERYWERE!
If play hide and seek with him in the woods, he always wins
Card Artwork
Edit
LV 2.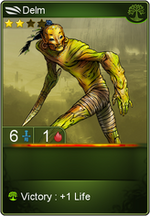 LV 3.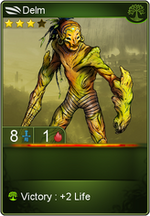 LV 4.
Full Artwork
Edit
LV 2.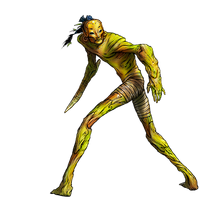 LV 3.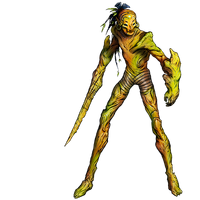 LV 4.
Useful links
Edit
Ad blocker interference detected!
Wikia is a free-to-use site that makes money from advertising. We have a modified experience for viewers using ad blockers

Wikia is not accessible if you've made further modifications. Remove the custom ad blocker rule(s) and the page will load as expected.