Background
Edit
Observations from Marus Lion, Free Marcher, Comrade Builder. "…three skeletons in rusty armor, accompanied by their sergeant. They followed me along the wadi of the Three Flames, cornering me in a dip in the landscape. The sergeant, who was better equipped than his men, approached me and stared out at me from his empty eye-sockets…before turning on his heels. It was then that I recognized the two-headed eagle on his cape. So Bernd de Tirias was dead but a little of his loyalty lived on in this cadaver deprived of all rest."
Advantages and Disadvantages of the card
Edit
Advantages:
No need to feed him
Fits in the closet. And he likes it.
Excellent to use in scare pranks
Disadvantages:
Very noisy whe walking on hard surfaces
Dogs seem to be attracted to him. Better keep him inside
The smell.
Card Artwork
Edit
LV 4.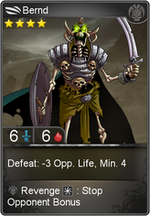 Full Artwork
Edit
LV 4.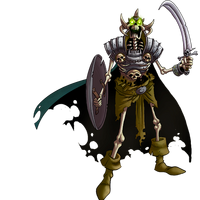 Useful links
Edit
Ad blocker interference detected!
Wikia is a free-to-use site that makes money from advertising. We have a modified experience for viewers using ad blockers

Wikia is not accessible if you've made further modifications. Remove the custom ad blocker rule(s) and the page will load as expected.