Alachiaa Artwork
Faction:
Abyss
Ability

Level 3: Victory: -1 Opp. Mana, Min. 3




Level 4: Victory: -2 Opp. Mana, Min. 3




Level 5: Victory: -3 Opp. Mana, Min. 3

Bonus

Level 3:  -11 Opp. Attack, Min. 14




Level 4:  -13 Opp. Attack, Min. 14




Level 5: -20 Opp. Attack, Min. 14

Rarity:
Epic
Released:
November, 21st, 2012
Artist:
VanOxymore
Stars:
5
Stats Level 3:
5/2
Stats Level 4:
6/2
Stats Level 5:
7/3
Background
Edit
Prayer from the Mementum Primae – An Order of Oracles.
"My body is pure from the taint of embrace. My mind is the bowl, the Iridescent the water. May they pour their will into me, and past my lips may their innate wisdom flow. I am the vessel, they are the powerful wind. Up the steadfast Sylth flagstaff, I raise the Iridescent colors".
None at the moment.
Advantages and Disadvantages of the card
Edit
Advantages:
Disadvantages:
Card Artwork
Edit
LV 3.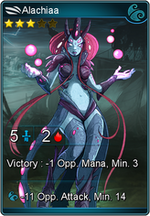 LV 4.
LV 5.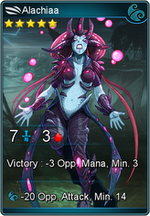 Full Artwork
Edit
LV 3.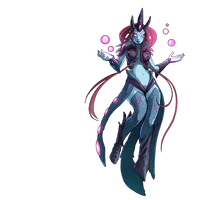 LV 4.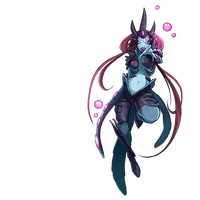 LV 5.
Useful links
Edit
Ad blocker interference detected!
Wikia is a free-to-use site that makes money from advertising. We have a modified experience for viewers using ad blockers

Wikia is not accessible if you've made further modifications. Remove the custom ad blocker rule(s) and the page will load as expected.